Shipping Firearms with UPS might appear daunting, but it is not that difficult as long as you know some essential rules. It is easy to ship firearms through UPS; be sure one of the parties in the transaction has an FFL license. A Federal Firearms License (FFL) is a license in the United States that enables an individual or a company to engage in a business pertaining to the manufacture of firearms or the sale of firearms.
UPS accepts packages containing firearms for transportation only under these circumstances
Between licensed importers, manufacturers, dealers, collectors, and government agencies; and 
If not otherwise prohibited by federal, state, or local law 

from a private individual to a licensed importer, manufacturer, dealer, collector; or 
from a licensed importer, manufacturer, dealer, or collector to an individual.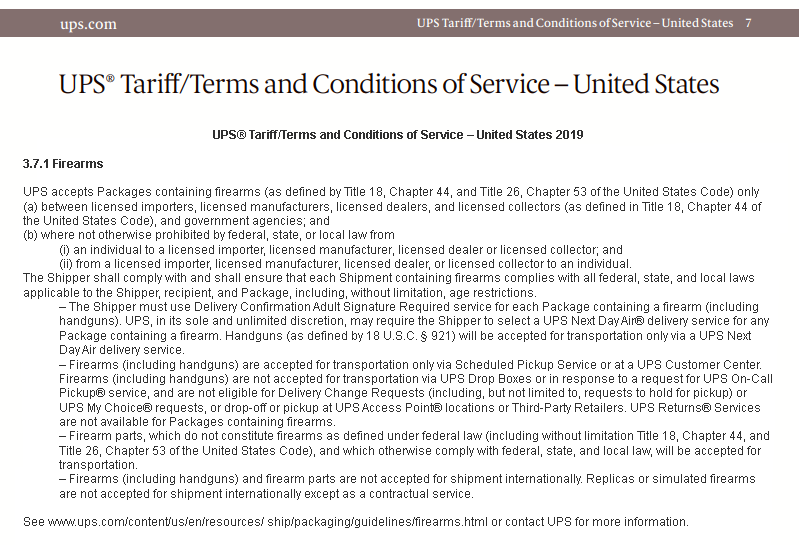 What UPS Services can you use?
UPS accepts handguns for transportation only via UPS Next Day Air Services. Next-day air services include UPS Next Day Air Early, UPS Next Day Air, and UPS Next Day Air Saver. Long guns such as rifles and shotguns can ship via UPS Ground or Next Day Air Services.
UPS ground shipping is not available for the shipping of handguns. These must be shipped using next day air services.
UPS accepts firearm parts for shipment if the part is not a "firearm" as defined under federal law. Also, the contents of the package cannot assemble to form a firearm. Receivers or frames firearms and suppressors are considered "firearms" and are accepted by UPS only when shipped according to UPS's requirements.
Transferring the Firearm Shipment to UPS
When shipping firearms with UPS, it is essential that firearms can only be shipped through a UPS scheduled pickup account or by visiting a UPS Customer Center. Subsequently, firearms are not accepted for shipment via UPS drop boxes. Also, shippers cannot drop off guns at any UPS stores or third-party retailers. This means you cannot drop off a package that is ready to ship. However, you can purchase the shipping labels from a UPS Store or third-party retailer.
Additional UPS Restrictions
UPS Express Critical Service is not available for firearms.
UPS does not accept any automatic weapons for shipment.
Firearms (including handguns) and firearm parts cannot ship internationally.
When shipping a package that contains a handgun, verbally notify the UPS driver or UPS customer representative.
Delivery Change Requests for packages containing firearms are not available.
Finally, firearms shipments cannot use any UPS returns services.
Required Packing and Labeling for Firearms
Ship firearms vis UPS in new corrugated packaging.
Ammunition must ship separately from packages that contain a firearm.
Shippers must use the UPS Delivery Confirmation-Adult Signature Required service. 
The shipper must affix a UPS label requesting an adult signature upon delivery.
Lastly, labeling and box markings on all firearms shipments should not identify the contents as a firearm. 
Additional Tips for Shipping Guns with UPS
Place multiple labels on the package to prevent accidental or purposeful label removal.
Use a larger box that makes it more difficult for someone to steal.
Finally, purchase shipping insurance by placing a higher declared value than the standard $99.
Shipping firearms with UPS is not difficult if you follow all of the rules and regulations. If you are not an FFL holder, ensure you are shipping the firearm to someone who is an FFL holder. That person will also be an excellent reference to ask questions if you are unsure of the process. In addition, call your local UPS store and ask questions, and they will be happy to help.