Today's hall-of-fame post is a dimensional-weight error on a package shipped in New York City. A customer recently sent a heavy package Priority Overnight. The package weighed just over 100 pounds, but was billed with a rated weight of over 270 pounds. We calculated based on the dimensions and found it should have been rated at around 100 pounds instead.
The result of our efforts? A package charged over $900 was re-rated to a just about $100. Our customer gets a check for an $800+ refund, thanks to our FedEx express auditing service watching for dim-weight mistakes.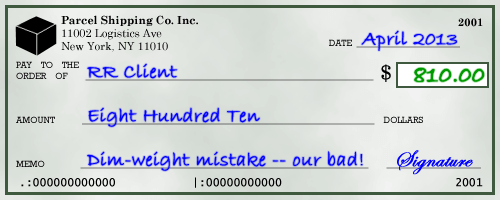 These issues can happen every day, but for the average shipper it's difficult to catch. That's where we come in.